Professional guitar
repair
&

restoration.
Get your axe back on the road where it belongs.
From setups to refrets to customization, Space Guitar Repair is proficient with all makes and models of electric and acoustic guitars, basses and other stringed instruments. Neil has been factory-authorized by many manufacturers for warranty repairs. Space Guitar Repair is a respected subcontractor for several area music stores in addition to serving a broad spectrum of area musicians on a repeat basis.
Meet Neil.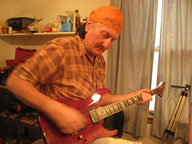 Neil Bartos has been serving musicians for over 45 years. As a professional musician and one of Ohio's most experienced master guitar technicians, Neil understands and accommodates each customer's unique needs.
Neil serves students, basement players and pros alike — including providing technical support for national acts at Cleveland's Rock and Roll Hall of Fame.
Services
Simple to Complex Repairs
Space Guitar Repair is a full-service shop including touchup, refinishing, electronic repair, and customization. We'll take good care of you.
Warranty issues will be brought to the customer's attention. Rest assured that the instrument will be returned looking, sounding and playing better than ever.
Repairing all makes and models of electric and acoustic guitars and other stringed instruments, Neil will take care of your instrument like it was his own.
Why Space Guitar Repair?
Competitive rates
Fast, quality repairs
Over 40 years of lutherie experience
Fully insured
Testimonials
"Neil! Great work. My bass plays and sounds great. Thanks!"
"OMG this Gretch sounds AMAZING. Your a genius Neil! Best in the business!! Other guitarist should bring stuff to you."
"It sings and growls and does it all."
"I just wanted to let you know that I finally got a chance to sit down and play my Strat and "Wow" it plays amazing! It's seriously better than it has ever been before. Thanks again for all you did with it. It's fantastic!"
"Neil, I can really appreciate the difference in the action on the guitar. Good call on the lighter strings. They have a little different tone but much easier playability for my beginner self. Could not be happier… Thanks again… Lou."
"Thanks Neil. This thing sounds awesome! Plays great too!"
Frequently-asked questions
Amateur and professional musicians
You've spent a lot of time with that axe. And over the years it's showing it's wear. Time to get it back into shape. Call Neil, get a quote, and rock on. Seriously.
Music Stores
Outsourcing guitar repairs frees the music store owner to concentrate on other aspects of the music business that yields higher margins and greater satisfaction.
Let a professional pick up your guitar work, perform efficient repairs and return the refurbished instruments to your shop in a quick and efficient manner.
Many area music instructors and schools refer their students to Neil at Space Guitar Repair for fast, quality repairs. Space Guitar Repair is fully insured with competitive rates.
Gallery
Customers have creative ways of abusing their guitars from smashing into coffee tables to submerging in water to impaling the instrument on mike stands.
Space Guitar Repair has seen nearly every kind of damage that can be inflicted and can usually offer a satisfactory solution. So bring it on. Repair estimates to assess the extent of damage are free and alternatives are discussed before work is started to ensure there are no surprises.
View before-and-after shots below.